Minoan prochous. New Palace Period (Late Minoan Period) about 1500 B.C.

Dinos (mixing vase for wine and water). Late Corinthian painting by the "three maidens painter"...

Dionysos satyrs and sylins, like Vrygos painter inspired them. Red figure plate, about 480 B.C.

Wall-painting from the Minoan Palace, in Knossos...
Replica, Archaeological Museum of Heraklion Crete

Athenian black figure hydria, 530 B.C.

Black figure amphora (Lydos Painter). The distruction of Troy, death of Priam (seated on Zeus Altar) ...

Geometrick amphora, the typical amphora shape of the mature geometric age. from Dipylo...
National Archaeological Museum, Athens.

Corinthian pyxis. About 600 B.C.

Minoan pithos. About 1450 B.C.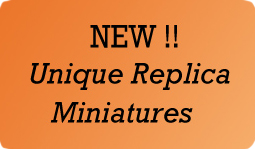 [1] next »
[1] [2] [3] [4] [5] [6] [7] [8] [9] [10] [11] [12] [13] [14] [15] [16] [17]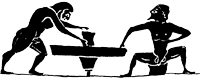 HAND MADE AND PAINTED IN GREECE