Masterpiece o f Handiwork t e r r a c o t t a
Creations of Ancient Hellenic pottery, despite being simple objects of everyday use in origin, were at the same time items of an artistic value that still amazes us. This is the main reason why they are, nowadays, considered as the most valuable exhibits of the largest museums worldwide.
Interested in the art of our ancestors, filled with love and admiration and at the same time aware of  the burden of such an attempt, we have revived  this kind of art in order to make it accessible to everyone.
Our family tradition starts in early 1900s and focuses on the ancient heritage after 1950. Since then we have been  recreating vases and trying to retain the ancient spirit while treating each different piece like  having a  unique soul.
Studies, talent, labor, acquisition of old techniques and above all respect  have resulted in
a worldwide acceptance of our work. We believe that quality and aesthetic value must surmount quantity and easy profit. We trust you will appreciate our effort to reveal the greatness of Ancient Hellenic spirit and present it to you.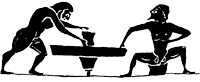 HAND MADE AND PAINTED IN GREECE